Every rider wants a well-fitting saddle, but this is a wish that's not easy to fulfill. Many riders, then, will reach for aids such as pads. But with so many different kinds, how do you go about choosing a saddle pad that's right for you? Master Saddler Tom Büttner in Dresden can tell you what to look for when choosing a saddle pad.
Summary
Caution: pads make the saddle narrower!
Tom Büttner starts off by saying that, basically, pads are too often simply shoved under the saddle. The most important rule is that the saddle and the pad must conform to the horse's back! They must be fitted at the same time, otherwise, a pad can simply make a well-fitting saddle worse. Choosing a saddle pad is similar to buying well-fitting shoes: if you then try to wear them with thick wool socks, they'll be too tight. "The saddle's width must be adjusted to take the pad into account", says Büttner.
Pads for dressage saddles and show jumping saddles
But is a pad even necessary? There are many people who ride without a pad, arguing that a well-fitted saddle is sufficient. Preferences regarding pads differ according to discipline. Dressage riders beyond a certain level of skill like to have as direct contact with the horse as possible, says Büttner. They prefer to ride without a pad, if possible. "Whereas in show jumping, pads are a good idea, since a saddle is often used for several horses." (If this specialisation does not apply to you yet and you are still at the beginning of your training, a good training video on the topic is "Fitting the saddle" Here it is also explained how to recognise the differences in eventing, dressage and show jumping saddles.)
Saddle pads and pressure points
The big advantage to pads is basically that they enlarge the saddle's contact area, which distributes pressure. Most pads can alleviate pressure points. But not all of them, particularly the older gel pads containing liquid gel. "With gel-filled pads, the gel will avoid the exact place where the pressure is", explains Tom Büttner. "The pressure will continue to be there, with the only advantage being that the contact area is enlarged."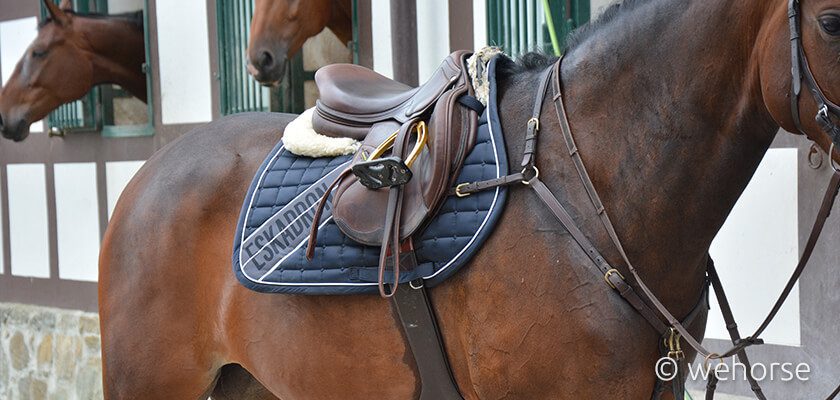 The considerable differences amongst gel pads
There are two important points to consider when choosing a saddle pad: "It should be breathable, and not allow heat to accumulate", says the Master Saddler. That, unfortunately, is another minus for liquid gel pads. Newer versions have perforations and are less fluid, whereby pressure is absorbed. "These new gel pads have pressure-distributing properties from improved viscosity, making them more stable and therefore less risky."
The benefits of memory form
Memory foam pads are quite popular right now. The pros: they're breathable and absorb sweat, which makes them comfortable to use. As with gel pads, sweat is prevented. "There's no heat build-up, and the new microfibre textiles are very similar in feel to natural materials."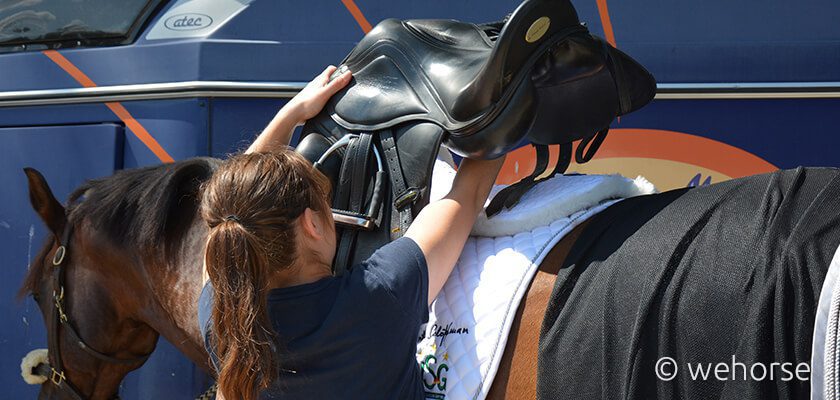 The classic variety: lambskin pads
Lambskin peeking out from the front and back of the saddle is the ideal for many, with some riders choosing a saddle pad for fashion reasons alone. This is not without its dangers – as we explained above, when such a pad is placed under a saddle that doesn't take this extra padding into account, that saddle will become too narrow for the horse. A lambskin pad makes sense when it's used as a compensator. "I recommend lambskin pads when horses have lost muscle tone, for rehabilitation in transitional periods", says Master Saddler Tom Büttner. Lambskin pads have many beneficial properties, such as breathability, sweat absorption and good pressure distribution. Büttner also thinks they are fine for when the rider doesn't yet have a good seat, simply in order to go easy on the horse's back as they create a bit of additional padding between the horse's back and the saddle.
Spine freedom with saddle pads
Many high-quality pads are designed so that the horse's spine is free of pressure. That makes sense, because the horse shouldn't bear the rider's weight there (we described in detail where a horse should carry a rider's weight in an article here on the wehorse blog titled "Does Your Saddle Fit? 10 Steps to Find Out").
Caution: synthetic saddle pads
They look like lambskin pads, but are made of synthetic materials: pads made of synthetic fur are naturally cheaper than lambskin. But you're not doing your horse any favors! This material heats up fast and is bad at wicking away moisture. "The friction from movement will cause a synthetic lambskin pad to heat up faster than natural or higher quality materials. This causes temperatures one would rather avoid!", says Büttner. "It can even lead to inflammations." Exercise caution when choosing a saddle pad made of synthetic lambskin – and not just pads. With any synthetic lambskin product, one should consider whether it will heat up from friction during use. If the answer is yes, then one should then ask whether this could cause damage.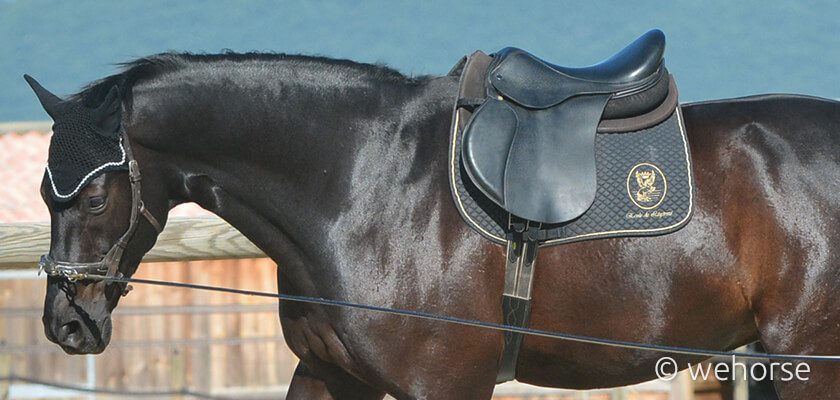 Rubber foam and felt saddle pads
Lambskin isn't the only material that's recommended. The saddler mentions natural rubber as also being a good choice. The varieties of rubber foam products are endless. Many provide good pressure distribution, but fail when it comes to breathability. This should be kept in mind when choosing a saddle pad. Felt saddle pads score points for breathability, and remain popular in English-style horse riding.
From felt to lambskin
Felt is crafted from sheep's wool, and so felt pads share many properties with lambskin pads. A felt pad's firmness will depend on its production. "The drawback to choosing a saddle pad made of felt will be its care", says Büttner, "and for this reason these largely have been replaced by lambskin pads in equestrian sport". Simply airing them, as is often recommended, offers no long term solution. "At some point the sebum will accumulate like a layer of fat and that's just not attractive." And then there's the build-up of skin and hair. For every horse hair there's a sebaceous gland and a perspiratory gland, and the secretions that they produce will eventually land on the saddle pad.