While rules can be quite relaxed when you are just competing against friends, when you start competing at a more serious level, you need the right equipment. In fact, you may have to appear in front of an inspector to prove that you are ready to enter the arena.
Summary
Most Important Riders Equipment – The Helmet
The most critical piece of riders equipment is the helmet. In most cases, it is a requirement, and it is never frowned upon. The helmet must be made of a material meeting or exceeding the American Society for Testing and Materials standards. The helmet must have a Safety Equipment Institute sticker on it.
It is vital when buying your riders equipment that the helmet fits your head. You should have someone measure your head 1 inch above your eyebrows. Then, round that number to the nearest ½ inch. The helmet should cover your entire head and not move around easily.
Basic Riders Equipment Boots
Boots are an essential part of your riding outfit because they help ensure that you do not get hung up in the saddle if an accident occurs. The type of boot that you need depends on the kind of competition you will be competing in during the show.
If you are competing in dressage, then you have the option to wear dressage or field boots. At the lowest levels, you can even compete in paddock boots. Select options that have been specially made not to crease as easily through the ankle as they give a more polished appearance. These boots must be black or dark brown or black with a dark brown upper.
If you are competing in hunter classes, you need to wear tall, black leather field boots. The exception to the rule is children who have chosen to wear brown paddock boots with matching brown garters or knee straps.
In showjumping competitions, black field boots should be worn during all competitions. These boots help the rider achieve the correct heel down position because of their unique lacing system. Look for options that are slightly reinforced on the inside as they will wear longer.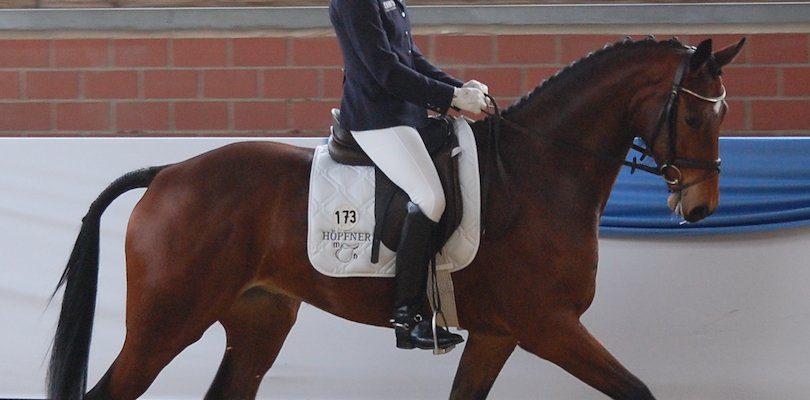 Additional Basic Riders Equipment
The equipment varies a little by what event you are choosing to participate in, so let's look at the basic riders' equipment.
1. Pants
If you have ever ridden for very long in a pair of jeans or shorts, you know the pain that comes with the chafing from seams. Therefore, you need to choose the right riding pants. Choosing the right riding pants also helps you maintain the correct position.
While there may be some variation for young children and novice classes, generally half chaps, gaiters and leggings are not allowed as riders equipment in show arenas. Half chaps are permitted in some hunter classes, so check the rules.
There are two different basic styles available. Jodhpurs are designed to be worn with low-cut riding boots while breeches are designed to be worn with tall riding boots. Both options should fit tight against your legs so that they do not get tangled up in the girth.
Most riding pants are made from a combination of spandex and cotton or polyester. The spandex gives the pants the ability to move as you change positions on the horse and helps the pants stay tight against your body. While cotton feels great against the body, polyester is more robust, so keep that in mind if you plan on wearing the pants for a while.
The rules for your event will often dictate which choice you need to wear on competition day. If you choose to compete in dressage, you will want to wear breeches, unless you are a very young child competing at a low level. If you are competing in a hunter class or in show jumping, you need to wear breeches. If belt loops are present, then you should pair them with a conservative belt.
The ruling organization may dictate the color of breeches that you may wear as part of your rider's equipment. For example, the United States Equestrian Federation dictates that breeches must be white, buff or canary. In Jumper Classic or Grand Prix events, light-color breeches are required riders equipment.
2. Shirts
Long-sleeve shirts are required riders equipment for all events. The sleeves protect your skin from the sun's damaging rays. Furthermore, it gives you a very polished appearance when in the show arena. Choose a shirt that allows you to move freely while still lying close to your body. Natural materials, like cotton, are cooler than other options.
You will never be out of style in a white bib shirt, and they are required riders equipment in some competitions. The shirt needs to tuck into your jodhpurs or breeches, so make sure that you choose one that is long enough.
In most dressage classes, the shirt can be any color. The shirt needs to have a collar that works with your show jacket. You will also need a shirt that allows you to wear a tie.
3. Show Jackets
Regardless of the type of competition, you will almost always need to wear a show jacket. In very limited conditions, you may be able to forgo the jacket if the weather is incredibly warm, but that is always at the discretion of the show committee and judges, so you should always be prepared.
Riders competing in dressage need to wear a short show jacket in a conservative color. The jacket should button up the front with either three-or-four buttons, depending on what looks best on you. Grand Prix competitors must wear a single-color coat, but the collar and other details may be a slightly different hue.
In hunter classes, the coat must be a dark color. There are several different styles available. All riders can wear traditional hunt coats or shadberries. Some riders have also earned the right to wear a scarlet coat through their accomplishments. You should check with the show committee or someone with experience to see what is common in your geographical area.
In show jumping events, almost any color of coat is acceptable, but the most popular choices are very conservative.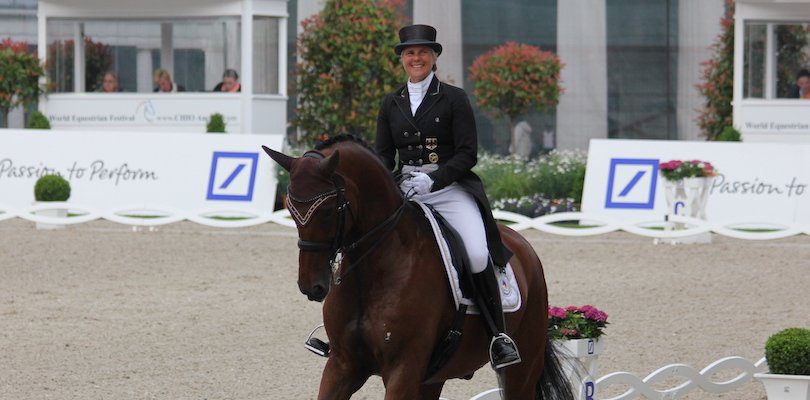 4. Ties
While you will need to wear a tie as part of your riders equipment during almost every type of competition, you have some choices. Most will allow you to wear a stock tie, a pretied version or one constructed with an elastic that loops around your neck.
5. Gloves
A rider may choose to wear gloves or opt to wear them to give a more polished appearance.
Gloves for dressage classes may be either white, cream or fawn when taking the civilian dressage test. If the competitor works for is a member of the military, and they are wearing their military uniform, then the gloves must be those worn with the uniform.
In hunter classes, gloves must be black. They can be made from real or synthetic leather. Consider those with flexible gussets between the fingers. Textured riding gloves make it easier to grip the reins.
In showjumping, gloves are optional. When chosen, they are usually black.
What Horse Communication Tools Are Allowed?
Generally, riders can carry a whip and wear spurs when competing. These communication tools are to get the horse to understand the signals you are giving to them and not punish the horse.
6. Whip
If you choose to carry a whip as part of your essential riders equipment, you must follow precise rules. Be sure to check the rules for the qualifying organization frequently as they are updated often.
In dressage, whips cannot be carried by USEF/USDF Championships, USEF National Dressage Championships, USEF High Performance Championships and USEF High Performance qualifying and selection trials. When carried, the whip, including the lash, may not be longer than 120 centimeters. When attempting FEI pony tests, the whip must be shorter than 100 centimeters. Adjustable-length whips are not allowed during competition.
In hunter classes, whips must be shorter than 75 centimeters. They must not be weighted. Riders equipment rules prohibit carrying more than one whip.
Riders equipment whips used in show jumping depend on the country where the competition takes place. For example, in the United Kingdom, riders are only allowed to carry a whip containing a pad covering at least 40% of the whip's overall length. The whip must weigh less than 160 grams and have no binding within 17 centimeters of the end of the pad.
7. Spurs
Spurs are allowed across each horse discipline. Remember their purpose is to communicate with your horse, so be sure to keep them out of your horse's sides unless you send a specific message.
There are many precise rules, so be sure you read the rulebook about this piece of riders equipment or talk to knowledgeable vendors.
Riders equipment varies significantly across different disciplines within the horse world. Organizing communities often update riders equipment rues regularly, so make sure that you are looking at the latest rule book. One thing, however, never changes. Make sure that your equipment is highly polished and in good working condition. You do not want your riders equipment to take away from the performance of the horse or the polished presentation that you present in the arena.