In this article dedicated to Working Equitation, German high-level rider Birte Ostwald explains what makes this discipline so fascinating. You'll learn how it works. She herself rides up to the highest classes. She trains with Stefan Schneider, who is a professional Working Equitation Trainer in Germany and has worked on the teaching videos with the renowned Pedro Torres.
Fact 1
There are four disciplines in Working Equitation: Dressage, Ease of Handling, Speed Trail and Cattle Work. At competitions in Germany the riders start from class E (Intro) to S (Advanced).  In E and A (Novice) a test always consists of dressage and ease of handling, from L (Medium)  on there is also speed trail and usually cattle work. What is never permitted: to start in only one of these disciplines at an event.
Fact 2
Dressage is particularly important. "The horses should perform the lessons just as correctly as at a conventional show," says Birte Ostwald. The origin of Working Equitation lies in the Southern European working styles, which have their roots in Spain, Portugal, Italy and France, explains Birte Ostwald. "In contrast to western riding, for example, the horse is ridden in contact, moving into the bit the horse on the vertical."
Fact 3
"In Working Equitation, you can go far with a well-ridden horse although it doesn't have the utmost movement potential," says Birte Oswald. The German 2014 World Championship team, for example, consisted of a Haflinger/Quarter Mix, a Welsh Cob, a golden Pinto and a Quarter Horse!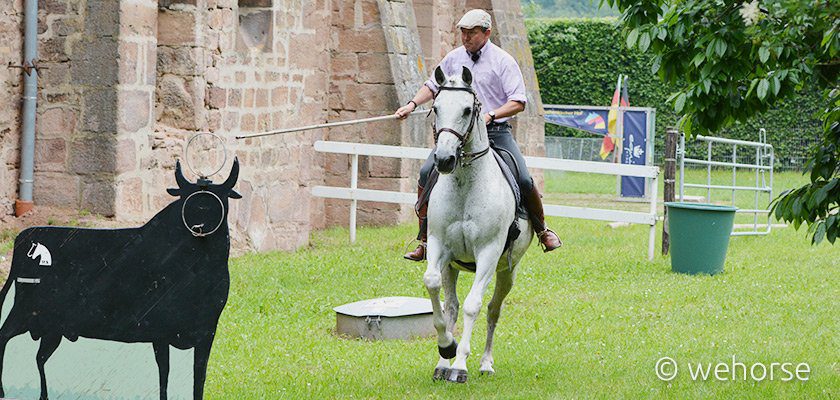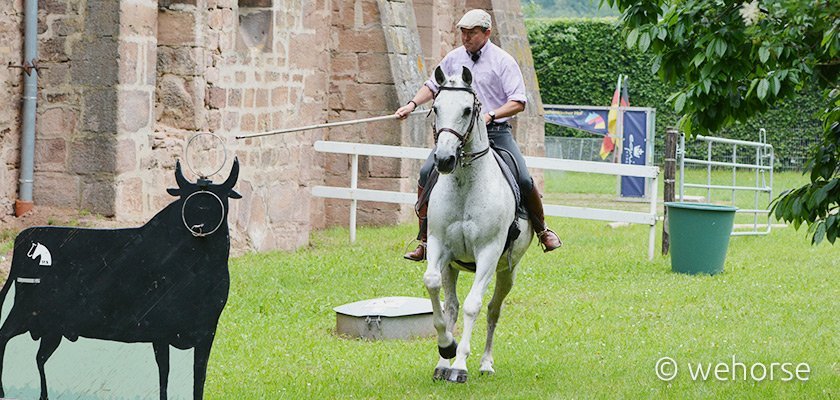 Fact 4
There are at least six obstacles in the ease of handling and speed trail and they can vary: for example the bridge, the gate, the slalom, small jumps or the pen. You can find a demonstration by Working Equitation European and World Champion Pedro Torres in this video.
Fact 5
The Garrocha is an integral part of the advanced classes: The rider must take this from a barrel, pick up a ring and place it back on another barrel. 
Fact 6
Typically, the higher classes are ridden with a curb. For intro and novice classes, a snaffle bit is required*, starting at medium level, a short cheeked Pelham with four reins may be used.
Fact 7
"The attitude of the horse can make a big difference," explains Birte Ostwald. Even a horse that does not have the optimal conformation of a Working Equitation horse can perform well. But: Your horse just must have fun, so you can have fun together.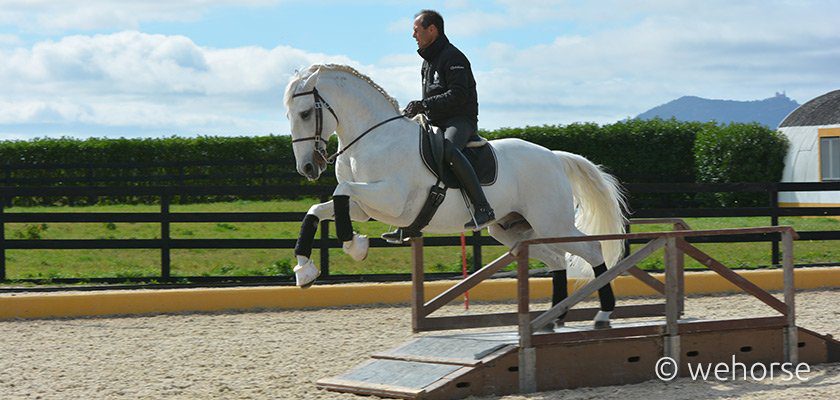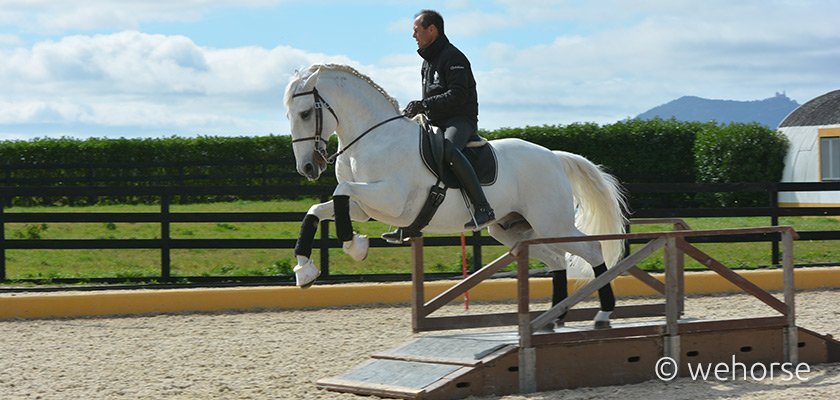 Fact 8
The most typical breed for Working Equitation is the Lusitano rooted in Portugal. "They usually have a good canter, which is essential, as is a good walk. Typical horses do not have huge strides while walking, but the walk must have rhythm."
Fact 9
Will to show: Many horses develop great motivation with Working Equitation, because they see a sense in their actions based on the obstacles. "A typical task, for example, is to ride into a pole L, ring a bell there and then back the horse back out around the corner. The horses learn to sort their legs themselves and participate enthusiastically," says Birte Ostwald.
Fact 10
How do you start? "Without instructions, the fun aspect gets lost quickly," says Birte Ostwald. Books or learning videos can help. Pedro Torres shows how beautiful Working Equitation can be in his wehorse training courses.
If you want to know more about Pedro Torres and the discipline of Working Equitation, take a look at his personnal page. You can also take a look at our Working Equitation dedicated playlist on Youtube.