Today we would like to introduce one of the most harmonious couples we've met, Alizée Froment and Mistral. She's shown like no other rider that it's possible to use one's seat in such a way that Grand Prix movements can be executed through bitless riding.
We have met several times now – at courses, trade fairs and at Alizée Froment's home, which we visited to make the wehorse films about her. We filmed at her parents' stables in the South of France. In this article you can read what that was like and how she became the rider she is today.
It's early morning in the South of France. The air is still cool, the roads are dusty as the hot weather has left the earth dry. Alizée Froment's stables lie just outside a small village. The first thing one sees are paddocks and the open stalls where her mother's ponies live. A strip of precisely mowed, bright green lawn runs between the arena and the stables, where her stallions peer out from the open windows framed by sumptuous, wine-coloured curtains. "I enjoy beauty", says Alizée Froment. The flower she wears in her hair – her distinctive feature – is also integrated into the stalls' design: where the curtains are gathered, there are silk flowers.
Summary
Alizée Froment's multiple talents
Here, not far from Nice, is where Alizée Froment worked and developed into a world championship talent. Today she guest stars at major horse shows, executes Grand Prix movements using only a neck rope and thrills spectators at liberty dressage events, costumed like a princess in a flowing gown. What many don't know, however, is that this bitless riding star has also competed in dressage at Grand Prix level with her Lusitano stallion, Mistral. Alizée Froment schooled the stallion herself and brought him to the Dressage European Championships for Young Riders where they competed at Grand Prix level. For five years her focus was on international competition, and during this time she also rode Di Magic OLD by Dimaggio at the 2012 World Championships for Young Dressage Horses, winning the consolation final. For several years she was the national trainer for France's pony dressage riders but gave up this work because she no longer had the time to commute between appearances, seminars and her pony riders. Her calendar includes trips to far-off places such as Moscow, Lausanne, Barcelona, Malmö, and Chicago.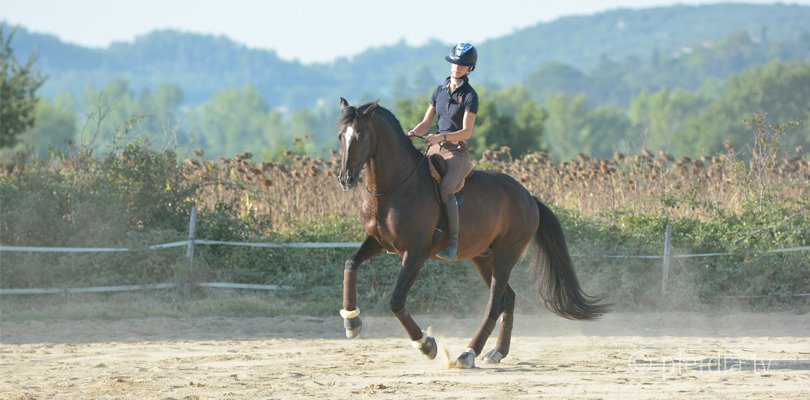 Sport and show
This parallel activity of competitive sport and shows isn't the only surprise. When Alizée Froment is riding bitless, using only a neck rope, the silhouette of the horse remains unchanged. Both of her stallions, Mistral and Sultan, maintain movement of energy through the body without falling apart. She executes a half pass precisely, switches from a strong canter into a canter pirouette or has her horse perform a passage. She simply can.
We have come here, after travelling countless hours in a car full of film equipment, to learn her training techniques and how she came to do all this. We, being the wehorse film team, and myself as author. The plan is to make an educational video about Alizée Froment as well as a profile article of the bitless riding celebrity for the magazine publication, Reiter Revue. We want to discover the elements of her training that make this ease, this lightness, possible.
A grey stallion stands tied in front of the stables. This is Sultan du Coussoul, and he is a PRE horse, short for Pura Raza Española. He is nine years old and a son of Mistral du Coussoul. Alizée Froment is standing on a stool and massaging his back. Her team, consisting of two young women, are bandaging the grey's legs and grooming his tail. Each of their movements are well-coordinated, with one gesture quietly leading to the next. Alizée Froment coos a few friendly words to the horse. As much as she likes decorative flowers and opulent stage costumes, here everything is planned with thoroughness and precision. Nothing is left to chance.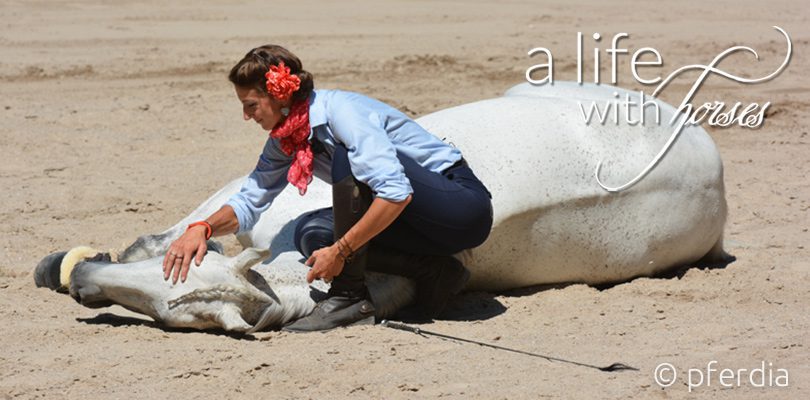 His son – a challenge
"Sultan has been my most difficult horse until now", she says whilst leading the grey to the arena – he follows, without her touching him. Whilst his sire Mistral was a "people-oriented" horse, Sultan prefers to do things his way. It's because of this that Alizée Froment took up liberty training in the search for a way to get this horse to be on her side. She learned a lot from Jean-François Pignon, who lives nearby. Sultan recently performed at his first gala show in bitless riding in Herning, Denmark. Piaffe and passage, but with only a neck rope, like his sire. At one point during the performance she dismounted, and thus began the liberty dressage part of the show. The horse galloped freely around her. On her command – "Hop!" – he came to a standstill. A highlight of the show is when she danced away from Sultan, who waited for her command before galloping to her. Difficult? It looks completely natural.
Back home in the arena with Sultan, she demonstrates the foundation of her bitless riding success: classical dressage. She has an impressive seat, and rides each of her horses with absolute consistency. Relaxation, adding lateral movements, tempi changes, all of it completely conventional. "None of my horses have excellent natural basic gaits", she says. "It's all from training." Whoever has seen Alizée Froment's training course will know that she manages to get every horse in the class working more through the body, moving through the back and showing more expression within two days.
The key to training
It's important to her that the rider genuinely gets the horse in front of the leg and really leads from the outside rein. Leg yielding in every gait, shoulder-fore and shoulder-in, countless transitions – "micro-transitions", as she calls them – are recurring elements in her instruction.
Her most important tool for improving movement is the counter canter on a curved line with flexion to the inside. She focuses on a constant transition between collection and relaxation work; this "stretching work", as she calls it, is extremely important to her, and when it works, a heavily accented "Yes, this is it!" will echo through the riding arena.
The rider gets the horse reacting more responsively to the seat aids as a result. It's this quality together with her incredible precision which allows her to switch to bitless riding without losing the qualitiy of the dressage movement.
What comes after Grand Prix
It was Alizée Froment's search for a challenge that led her to bitless riding. She had asked herself what her next step would be after four years of Grand Prix competition. She experimented with her bay stallion, Mistral, first leaving off the saddle, and riding her Mimi – his nickname – with only a saddlecloth. The next step was riding bitless. And the neck rope? "I can't say how I came to that. Something like that will come to me in the night. I'll wake up and I'll know that today I can ride without a bridle. Then I try it, and it works.
The first time Alizée Froment attempted dressage whilst riding bitless on Mistral was actually recorded on video in 2014. It was uploaded to YouTube and went viral – the equestrian world had never seen anything like it. An international dressage rider executing Grand Prix movements, riding bitless and bareback! The video was shared all over the world. "Bitless riding can be risky. You no longer have an emergency brake. He goes along with your commands because he wants to", she explains. She established the basics by using a neck rope together with a bit, of course.You can take a look at the first steps of bitless riding here.
The first steps of bitless riding
Each horse first learns to halt, flex and turn through cues from the neck rope. The bridle is there as a back-up, but that's really just a technicality. "When riding bitless, the contact with the horse must function through the seat and the back alone", says Alizée Froment, "before that you shouldn't even think of removing the bridle! It must be possible to bring the horse in balance through the seat alone, at all times."
She switches between using a snaffle bit, a bitless bridle and a neck rope in her daily training. She also goes on hacks and does liberty work.
The key to her work is consistency. When she rides, there is not a single transition that isn't properly given. When Alizée Froment's family gathers together, it's clear where this trait comes from.
A strict but close family
Time for lunch. Alizée's mother Carol has set tables beneath olive trees near the stables with couscous salad, baguettes and cheese platters. Plaid tablecloths blow in the breeze, bottles of rosé wine and water stand at the ready. Alizée's younger brother, a show jumping rider, has joined us. The bitless riding star also jumped until she switched to dressage at the age of 18. The siblings grew up around horses; their mother organised pony camps. "I often have been accused of being too strict with my children's riding instruction", says Carol Froment, "but they were allowed to play games, just like all the other children. However, it was important to me that they do it the right way, for example by riding through a row of pylons with flying changes in the right places, and not simply riding about." Nothing comes from nothing. The family photo album holds many pictures that show Alizée as a small, courageous rider – for example, jumping solid obstacles in rough terrain, her legs barely reaching the saddle flap. Her younger brother would soon be moving to another city to attend university. "I'll miss him, he's my little brother", Alizée coos over the tall youth as he leans back in his chair, looking cool in mirrored aviator sunglasses. There's no question that this is a very close family.
Cadre Noir training
Alizée Froment received her advanced dressage instruction from Philippe Limousin, an instructor at the French riding institution Cadre Noir. Hubert Perring, who competed in the Olympic Games in Hong Kong, also considers it an important part of her learning.
After lunch we visit Sparrow, her pony. "Isn't he beautiful?" she asks, her enthusiasm for this 95 cm pony quite evident. "He'll perform on the treadmill, he's so eager to learn." Lie down, go around in any desired gait freely without rope or rein, Spanish walk, lie down – he's learned all this in three months. "When he first got here, he would bite", she says. It was here that he first learned to put his energy to more productive uses. While Alizée Froment trains with Sparrow, her dog Youpla dashes around the arena. The pony's name comes from the French version of the Mary Poppins film.
It's just this artistic vein that led the French rider to pursue show riding above sport. Her participation in competitions each year can be counted on one hand, in contrast to the shows. "When I perform with the stallions, I feel right at home and in my own skin. The competition scene is different, the atmosphere has more tension and I miss this small bit of freedom and craziness that the artistic world allows me!"
International perspective
As a child, Alizée Froment travelled the world with her mother, who worked in French television alongside running her pony riding school. Six months in the Virgin Islands, six months in India. In her childhood drawings, all her horses have inward-turning ear tips – a feature of India's Marwari horses. She learnt to do things with intensity, to think outside the box, to remain a free spirit.
"I have nothing to prove, and I don't say that my way is the only way", says Alizée Froment. Her voice, while soft, carries a strong presence. "My bitless riding is simply the result of my personal research, my searching." She's just a girl from France with a flower in her hair. Whose ideal image is that of a centaur: half horse, half human.
P.S. Alizée Froment has meanwhile relocated to an area near Prague to be with her partner. Mistral, Sultan and her pony came along too, naturally. This article was originally published in Reiter Revue in 2016.
If you want to see more about Alizée Froment's training technique and philosophy, take a look at her wehorse course!